Snow & Ice Removal Services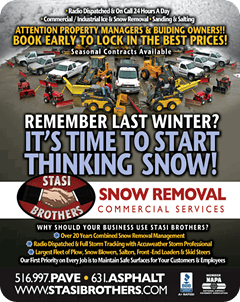 At Stasi Bros Snow Specialists, we are committed to offering high-quality snow removals to clients across industries. We handle commercial and industrial snow removals skillfully and ensure that our clients' properties are safe and clear of snow right through the winter months. If you need reliable snow removals for your retail property, office buildings, large parking areas, institutional premises, or county, town, or village municipalities, we are the company to call. Here is a closer look at these services.


County, Town, Village Municipalities
The winter months can bring movement to a halt due to road closures, icy walkways, and limited access to shops and parking lots. You can count on our expert personnel to get the snow removal job done right and on time in your town, municipality, or county. We use heavy-duty snow plowing equipment to successfully clear stubborn layers of ice. Our staff uses the latest technology and heavy-duty modern snow plowing and loading equipment and vehicles, and we have years of industry experience to assure efficient removals. Read More About County, Town, Village Municipalities >>


School Districts
Clearing and transporting snow from widespread school districts can be a considerable undertaking during the winter. We have extensive experience with various forms of snow removal, plowing, trucking, and de-icing projects. We make sure that our clients have the minimum amount of stress and strain possible in wintertime. We are your local snow clearing experts who can help, no matter how small or big the school districts you oversee are. We are punctual and dependable, ensuring that your areas are snow-free and safe to use. Read More About School Districts >>


Corporate Office Buildings
Our event and annual contracting solutions allow you to customize your snow and ice removal plan for your office park or corporate campus. These options let you stay within your budget while still protecting your property, whether you want to hire us for specific storm occurrences or choose a fixed seasonal approach. We are dedicated to being responsive and continuing our training to give you the best snow and ice removal services possible, ensuring that your property is accessible during the winter months. Read More About Corporate Office Buildings >>


Retail Shopping Centers
Property managers should ensure an ice and snow removal strategy is in place when winter arrives. It's a big responsibility to oversee the safety of customers and visitors. You must focus on various aspects to ensure that you don't have to face too much trouble during wintertime.

The services required by a retail/shopping center differ from those needed by office buildings or independent retailers. Hiring qualified and experienced snow removal contractors can be a massive relief for property managers. It ensures that your property complies with all local regulations and ordinances. Read More About Retail Shopping Centers >>


Industrial Properties
Maintaining a clear and clean commercial parking lot with snow plowing and icing applications is critical for good logistics and easy access. Our snow and ice removal services for large factories and distribution hubs are tailored to the specific needs of each location. You can rely on experienced guidance and action plans when you work with us to manage the unique requirements of your industrial facilities and maintain optimal efficiency, convenience, and accessibility. We work exclusively with supervisors to deliver specific snow removal solutions to facility management. Read More About Industrial Properties >>


Large Parking Areas
We've got you covered if you're looking for a competent and trusted company to remove snow from huge parking lots properly, effectively, and regularly. We have considerable experience clearing snow from big parking lots to protect the safety of our clients, the public, and those operating on the site this winter. Our trustworthy and professional crew is available 24 hours a day, seven days a week. We monitor weather forecasts so that our specialists can arrive at your site as soon as possible to clear the parking lots of snow. Read More About Large Parking Areas >>


Institutional Facilities
Our company provides dependable snow removal services for institutional buildings. At various times of the night and day, we remove snow from sidewalks, pathways, bicycle lanes, ADA-accessible building entrances, and ramps. We also clear snow from building access routes to these entries and large lugger platforms. Our heavy-duty snowplows are first cleared primary campus routes, roadways, walkways, and building entrances. We clear snow and ice from all exterior spaces of institutional institutions to make them useable, accessible, and safe. Read More About Institutional Facilities >>


Hospitals
Snow removal can be a massive chore for anyone due to the sheer size of most hospital properties. You might even have a lot of buildings, parking spaces, or other buildings on your property, which will make things even more difficult. Our company's professional and qualified teams have been assisting medical facility managers in combating the weather and properly managing snow removal for many years. We'll spend time with you to thoroughly analyze your property to tailor our services to your specific needs. Read More About Hospitals >>


Healthcare Facilities
Our professional, insured, and the skilled staff handles even the most challenging snow removals. Some facilities are dispersed across numerous buildings with extensive grounds. We have the necessary skills, tools, and equipment for this large-scale snow shoveling and hauling project, and our crew will spread salt and grit on all ramps and steps, as well as walkways and entrances. You can rest assured that your property will be approachable and safe at all times of the day and night. Our team will also clear ice and snow from any other outdoor areas to ensure that you have a stress-free winter. Read More About Healthcare Facilities >>


Sports Complexes
Our selection of highly customizable snow removal systems is suitable for ensuring that the facility is approachable throughout the wintertime. When you hire a well-known and reputable firm for ice removals, you can be confident that the professionals will clear up the space quickly and efficiently. Your business will feature enough parking and convenient traffic lanes for its adjacent roads in this manner. Our seasonal contracts are offered for athletic complexes to crowded arenas, allowing you to choose snow removal intervals that are best suited to your needs. Read More About Sports Complexes >>

For additional information about our snow removals for all types of commercial and industrial properties, please call Stasi Bros Snow Specialists at the numbers listed on this page or send us an email via the Contact Us form.