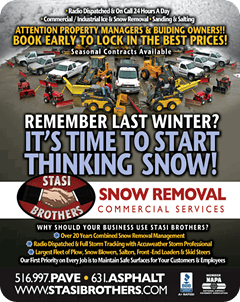 Snow and Ice Management Since 1988!
Premium snow management by Stasi Brothers means that your employees, customers, residents, and suppliers arrive safe and sound. Stasi Brothers clears the way for you to conduct business while others are still digging themselves out. Parking areas, access roads, walkways, and entrances get immediate and constant attention throughout snow emergencies with one of Long Islands largest assembly of snow removal equipment, manpower, and training.
WE ARE LONG ISLANDS MOST RELIABLE and ON TIME.
We have full-time year round certified snow professionals that manage your account 24 hours a day, 7 days per week, 365 days a year.
Stasi Brothers specializes in Winter Maintenance Programs tailored towards:
County, Town, Village Municipalities
School Districts
Corporate Office Buildings
Retail Shopping Centers
Industrial Properties
Large Parking Areas
Institutional Facilities
Hospitals
Healthcare Facilities
Sports Complex's
We are very competitive and most importantly,
WE ARE THERE WHEN YOU NEED US!
Click on the images below to view a larger display.
Photo 1

Photo 2

Photo 3

Photo 4

Photo 5

Photo 6

Photo 7





Photo 1